"Ugly."
"Offensive."
"Unpleasant to look at."
These responses are the results of cultural conditioning, a highly destructive, shame and abuse-based conditioning. There is nothing inherently ugly about genitalia, just as there is nothing inherently ugly about any particular body part.
(Don't get me started on the Surinam toad however. *shudder*)
This is just the threshold however, and doesn't begin to touch on the specifics of a relatively new trend among young women in prosperous, Western nations.
The UK
Would you like to join the Muffia?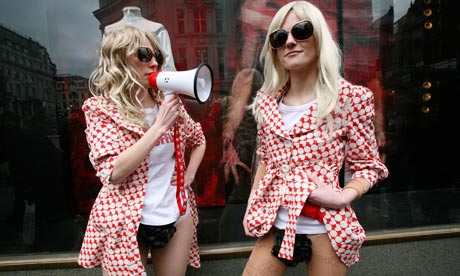 I would.
"At its most modest, the Muff March is against the pornography-influenced obsession with removing pubic hair. But it's also about protesting against the sort of surgery that makes you cross your legs. Typical procedures on offer include labiaplasty (trimming or removing the labia) and vaginal rejuvenation (tightening – usually referred to by "designer vagina").

"In the US this industry is worth $6.8m (£4.4m). In the UK the latest figures come from a 2009 report in the British Journal of Obstetrics and Gynaecology. It revealed that in 2008 the number of operations increased by 70% compared with the previous year: 1,118 labiaplasty operations on the NHS. (There were 669 in 2007 and 404 in 2006.) And that's just the NHS. The Harley Medical Group reported over 5,000 inquiries about cosmetic gynaecology last year, 65% for labial reduction.
Young women are voluntarily mutilating themselves, because they have no idea that the shape of their vulva is not only normal, but desirable.
An artist in the UK, who was disturbed upon hearing that women were seeking out labiaplasty wanted to demonstrate the variability and beauty of the vulva, to bring it out of obscurity and present some sort of challenge to the trend. His name is Jamie McCartney and he has live cast over 400 hundred women in an effort to show how unique, and different, and beautiful each one is.
http://www.greatwallofvagina.co.uk/film-gallery
Australia
The situation is quite bad in Australia. In order to avoid an X rating, and banishment from more mainstream retail outlets, magazines must adhere to strict rules governing nudity in printed material. Photos of nude women cannot include protruding labia minora, so these lovely inner lips are edited out. This has produced devastating consequences. The video below is well worth the time investment.
LABIAPLASTY HUNGRY BEAST: EP 14 from HUNGRY BEAST on Vimeo.
US
In the US, an organization called the New View Campaign which opposes attempts by the pharmaceutical industry to medicalize female sexual response, also addresses the rise in vulva and vaginal surgery.
It launched its own vulva acceptance art project called Vulvagraphics. Other artists are also hard at work on the issue.
As part of an After Dinner Party art project I too decided to create a small piece in tribute to the wonder that is the vulva. I drew most of these by referencing the gallery on Betty Dodson's website.  Here it is…
Signed, archival prints of this poster are available here.
To the young women out there, no two vulvas look the same, there is a large and wonderful range of sizes and shapes. Love yourself as you are, you are beautiful!